My Summer of Mosaic, Part II - by Wendy DeRaud
Feb 08, 2018
A cord of three strands is not quickly broken. Ecclesiastes 4:12
Summers are pretty hot in Fresno, California (oh, but it's a dry heat!), so this was going to be my inside activity when it was too hot to be outside this summer, and I didn't have to go to work.
For some reason I have an aversion to mosaics of recognizable things, like birds, flowers or landscapes. I usually love figurative, realistic, and impressionistic art, but with mosaic instead I chose an abstract design.
It was to become the knot of three cords that was symbolic in our wedding. The center-most element was God, and the other two parts of the cord expressed the bond between Mark and me, entwined with God.
That was my inspiration, to weave long curved lines in and around each other, using various pieces of rectangular and square shaped tiles, along with shells and sea glass, and then I'd fill in some neutral areas with broken white tile, areas that were going to be covered with round mirrors and didn't need a lot of color and drama.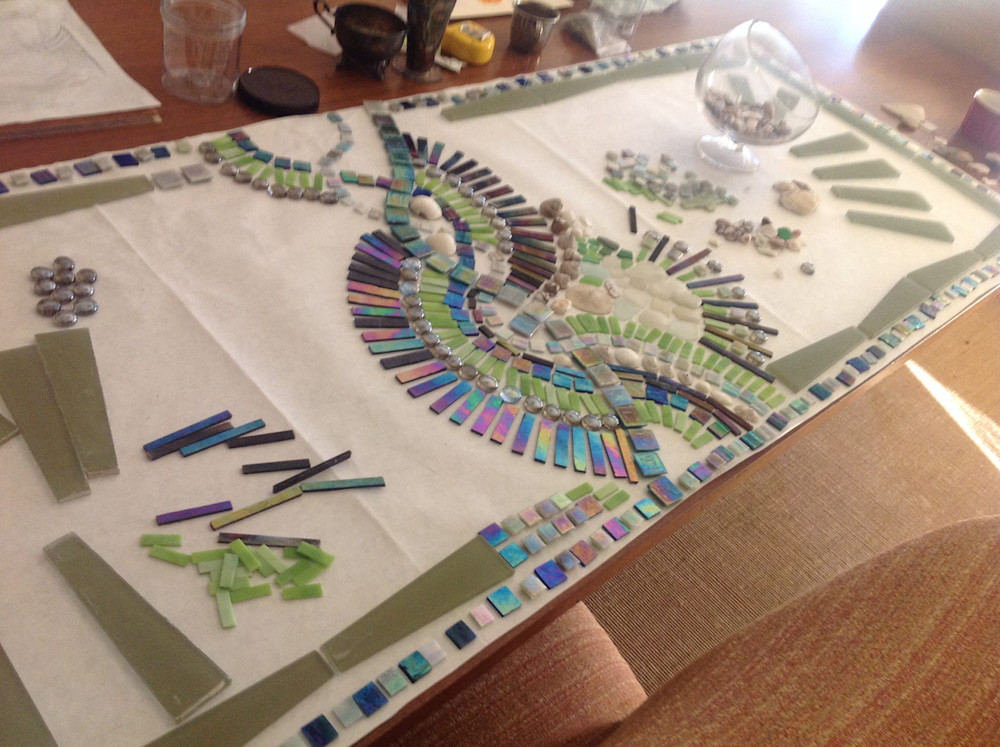 As I proceeded to create my design, I was inspired with more ideas, and had to order or scavenge for more pieces.
Continue following me here for the next few days where I'll be telling the story and posting the pics of how I created a beautiful mosaic backsplash for my bathroom when it was 105 degrees outside.
Tomorrow is going to get interesting. February 9: Art as Dope, My Summer Mosaic - Part III