What is Art 'n Soul? by Wendy DeRaud
Apr 28, 2018
So....we're going to be talking about Art 'n Soul up in here.
We're all about Art 'n Soul.
Art 'n Soul was something that was birthed here in Fresno back in 2003, by us, Mark and Wendy.
Starting with a seminar, monthly gatherings of a community of Christian artists developed, and continued for 2 years, with an average of 40 people attending. There were powerful times of listening prayer and sharing our art. We also held some amazing showcases, which were events that included an art show accompanied by a performance of music, dance and poetry. Over 100 people were usually in attendance.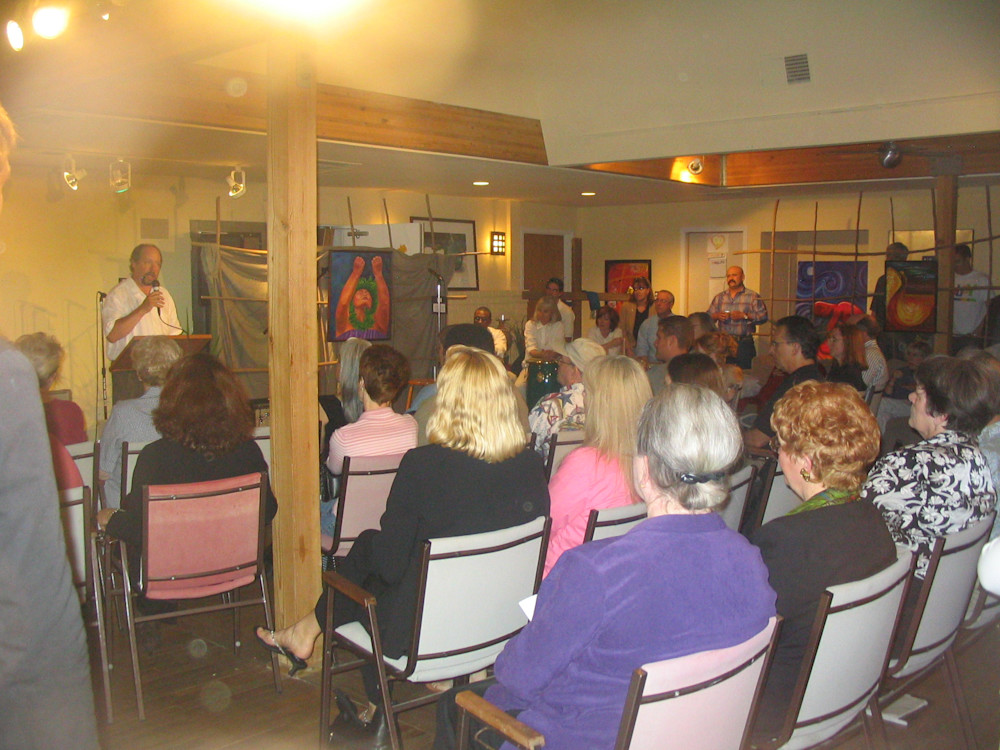 Mark at an Art 'n Soul Showcase 2005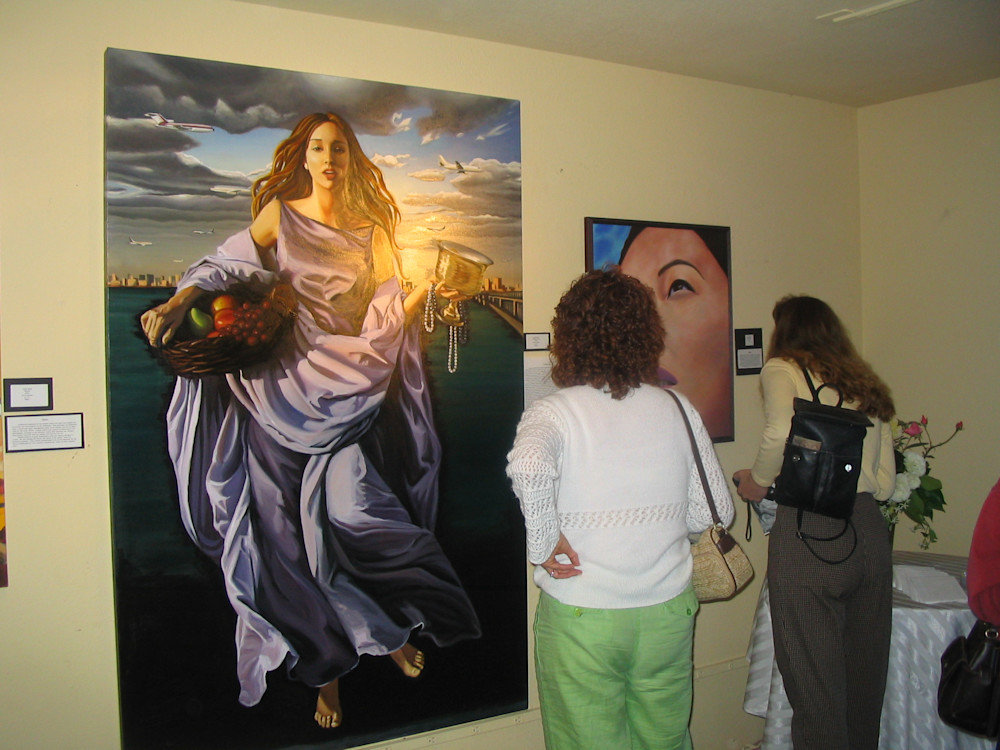 Onlookers viewing work by artists Leslie Batty and Lorie Hanoian at Art 'n Soul Showcase 2005
Art 'n Soul Phase 2 flourished briefly for about 6 months in 2011, and was more of a performance/open mic format, with Christian bands, singer-songwriters, artists, poets, and storytellers sharing their stories in front of pretty big crowds that sometimes grew to 125 family and friends, showing us the incredible need of Christian creatives to have a place to be heard and seen in our community, outside of a church setting.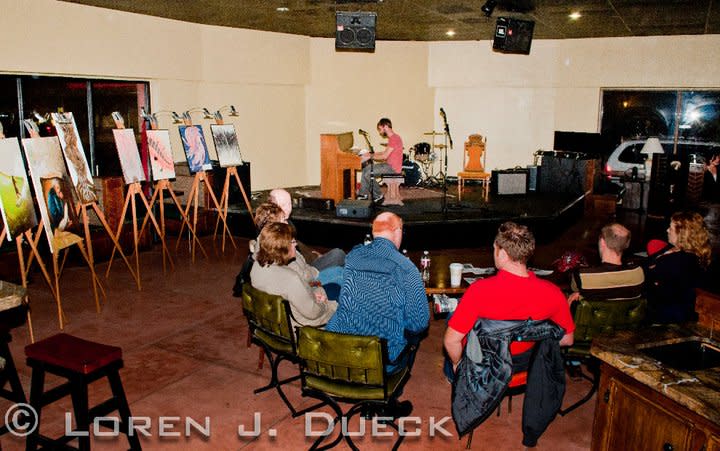 Art 'n Soul Phase 2, 2011 at the Neighborhood Thrift, Tower District, Fresno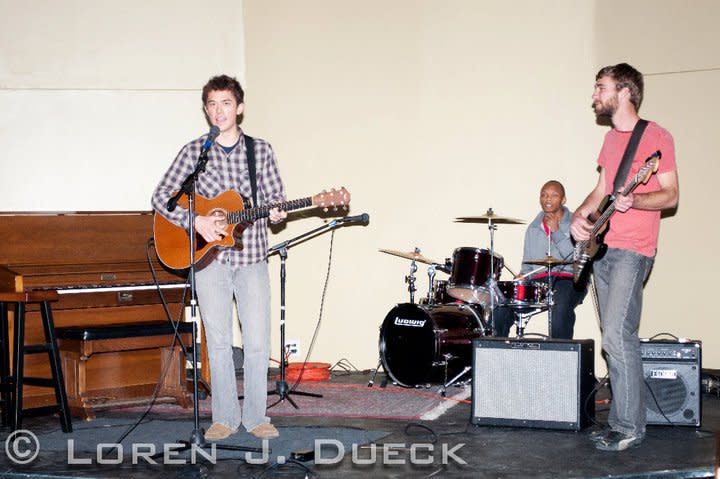 Art 'n Soul Phase 2 - 2011 - Collin, Curtis & Cordell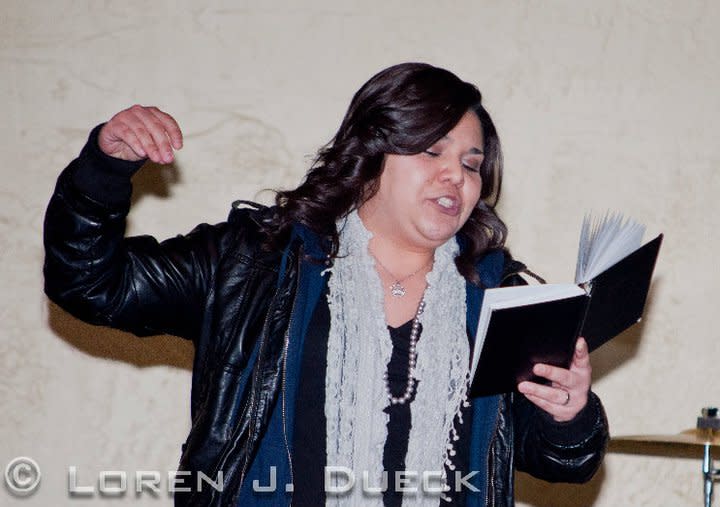 Art 'n Soul Phase 2 - 2011, Poetry Slam with Stephanie
So we've had to ask ourselves the question again, 7 years later, as we plan on moving into Art 'n Soul Phase 3, What is Art 'n Soul?
1. Art 'n Soul is about art and creativity as it relates to Christian spirituality.
2. Art 'n Soul is about healing and transformation.
3. Art 'n Soul is a tool by which a creative believer in Christ can grow spiritually, be healed and transformed by specific spiritual practices using the whole brain and various artistic mediums.
4. Art 'n Soul is where a community of creative believers in Christ can grow, develop and affirm one another's gifts and callings, in order to speak into the life of the church, the greater community, and into the world at large, with the power and love of God, and His Kingdom.
Through Mark's studies, he has discovered that there are more reasons and uses for the arts than previously anticipated; that art-making along with spiritual practice, can help reconsolidate memories, and help us move past our past traumas and hurts, while learning to live in the present moment with God, and envisioning a hopeful and positive future.
Stay tuned for more about Art 'n Soul Phase 3 as we envision its future.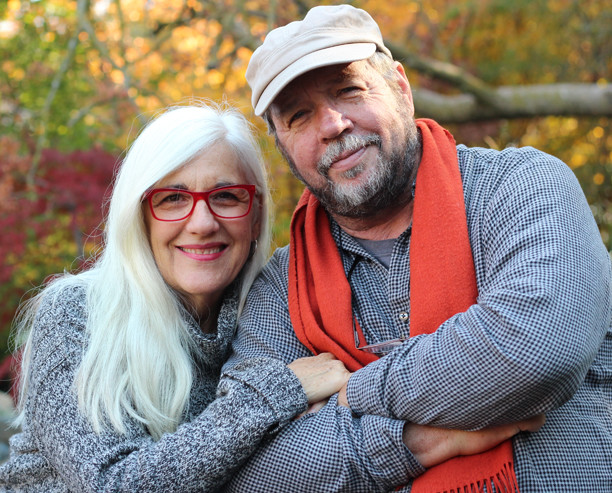 Mark & Wendy DeRaud